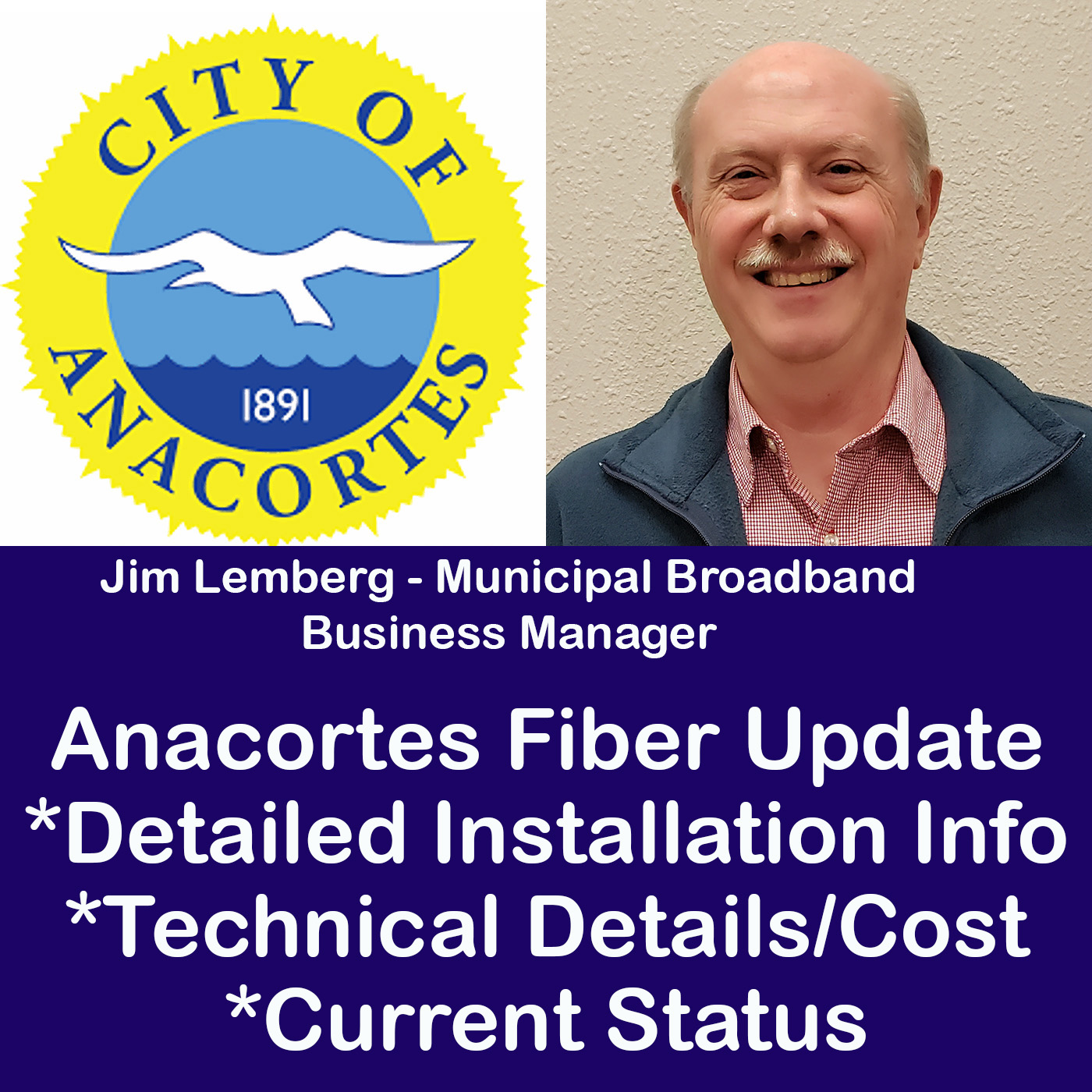 An Update on the Anacortes City Fiber Project: Capacity, Rollout, and Installations.
The Anacortes Community Series is Underwritten by the Kiwanis Club of Anacortes.
Episode 06: Show Notes.
Fiber optic is coming to Anacortes, and while we are all excited about what this means, hopes are high that the technology and implementation procedures are sound and trustworthy. Jim Lemberg, Municipal Broadband Business Manager for the city of Anacortes returns on today's episode to answer any questions on the subject and put our doubts to rest. Our conversation begins with some exciting information from Jim about the power of the broadband as well as its competitively priced options. Jim explains that with the uncapped symmetrical packages that are going for relatively cheap, choosing to sign up with the city as their WiFi provider should feel like a no brainer. We then dive deeply into the intricacies of the installation process, hearing initially about the schedules for the rollout. Jim then explains the architecture of the fiber pipes from the backbone cable to the MST, and thereafter the largely areal distribution of the cables to residences. Jim talks about the process whereby the cable will be led from the edge of the property into the actual home, stressing how quick and unobtrusive the process will feel. No dangling cables or gaping holes, we can assure you! Lastly, we touch on some of the underground solutions to getting cables distributed across the town, hearing about directional boring technologies as well as a service that leads the cables through water pipes. Jim weighs in on how well-vetted this pipe-in-water technology is, intending to settle a few worries about how it might affect drinking water. Certainly, the Anacortes fiber project will change lives in our beautiful town forever, so tune in to get a great update on the progress.
Key Points From This Episode:
Encouraging the use of Anacortes WiFi with the competitive prices of the two packages.
One-off installation fees and how the subsequent monthly invoice will appear on the utility bill.
Features of the package: no data caps, symmetrical packages, and more!
Minutia of the unobtrusive installation process: pipe locations, areal drop cables, drilling, etc.
How especially unobtrusive the Invisilight fiber optic cable along the baseboard will be.
Details about the interactions between the installation teams and the homeowners.
Successful installations and phasing of the rollout from the CBD to the old town and more.
Directional boring, pitting and molding, and other underground installation procedures.
Pipe-in water-techniques using a Craley solution to carry the fiber through water pipes.
Assuaging health concerns with thorough vetting that pipe-in-water processes have received.
Tweetables:
"We also are very pleased to offer what are called symmetrical speeds. That is the speed at which our customers receive internet bandwidth is the same at which they are able to send information to the internet." — Jim Lemberg [0:02:23]
"We work with each customer to choose the exact point at which we are going to enter the home. All of that is developed with the principle of being as unobtrusive as possible." — Jim Lemberg [0:05:26]
Links Mentioned in Today's Episode: