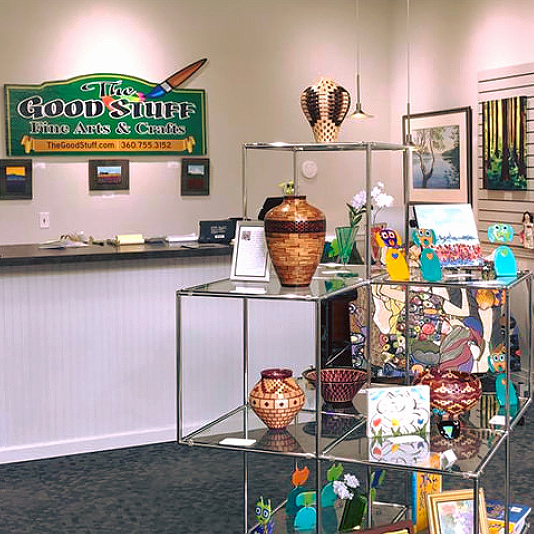 The Unexpected Origins of The Good Stuff Art Gallery with Kat Peterson.
Today on the show, we welcome the Founder of The Good Stuff Art Gallery, Kat Peterson. Kat had a fascinating upbringing on a farm in rural Colorado where she learned how to ride a tractor at the age of eight and studied at a one-room schoolhouse in an open pasture! Life on the farm made Kat who she is today and inspired her love for art (although she didn't know it back then!) Kat's interest in an art career grew much later in her life and was ignited by her grandmother who was a self-taught, small-town porcelain painter. After 15 years of working in corporate, Kat decided to move to Anacortes, where she continued to learn the art of porcelain painting and open-up an art gallery and an art supply store. In this episode, we explore the fascinating story of Kat Peterson and how her life led her to run the vibrant art gallery we know and love today. Kat also shares the patient process of porcelain painting, her journey with learning to see color, and why she believes that art is something that connects us to our souls and to the world.
Key Points from This Episode:
Kat's upbringing on a Colorado farm and attending a one-room schoolhouse in a pasture.
Why Kat decided to start her own art supply business after 15 years in corporate.
Continuing her grandmother's legacy: the influence of Kat's grandmother on her art.
Discover the fascinating art of porcelain painting and how the process typically works.
Teaching painters how to see color and the process of learning through layers.
How Kat learned how to paint with no formal artistic training in college.
Discover why The Good Stuff Art Gallery was started in Anacortes after a vacation.
Find out what makes the artwork and the community of artists in Anacortes special.
Learn what porcelain canvas is and what makes this surface unique for painting.
The patient art of porcelain painting and how it challenges the fast pace of modern life.
Discover how porcelain canvas painting is similar and different to watercolor painting.
The Power of Color: Discover what's currently happening at The Good Stuff Gallery.
Tweetables:
"My grandmother painted on porcelain. I always admired her but never thought I had any talent." — Kat Peterson [0:05:55]
"My grandmother always said, 'You don't have to paint a straight line, you just have to paint!' Finally, I took her advice." — Kat Peterson [0:06:05]
"I had to really learn how to see, and teaching painters how to see these colors too, has been a great honor for me." — Kat Peterson [0:07:45]
"Everyone can teach you something if you're willing to learn." — Kat Peterson [0:08:38]
"Art is something that connects you to your soul and to the world. That's why I have the gallery." — Kat Peterson [0:21:20]
Links Mentioned in Today's Episode: 
The Good Stuff — http://www.thegoodstuff.com/
The Good Stuff Arts — https://www.thegoodstuffarts.com/
The Good Stuff Arts on Facebook — https://www.facebook.com/thegoodstuffarts/
Anacortes First Friday Artwalk — https://www.anacortesart.com/
Anacortes Studio Tour — https://www.anacortesartscommission.com/98221-studio-tour.html/
Anacortes Chat — http://www.anacorteschat.com/
Suzanne Powers — https://suzannepowersart.com/
Gerald Balciar — http://www.bighorngalleries.com/balciar.htm