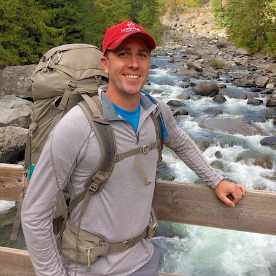 Full Circle with Rob Skelton. 
Today we welcome Anacortes gem, Rob Skelton, on to the show. Rob is here to share a story of going full circle and never forgetting his roots in Anacortes, despite all the trappings of wealth he found far away. Rob speaks about growing up wild and free in Anacortes and then heading up north to do gillnetting in Alaska. After a classic winter spent snowboarding on Mount Baker, Rob got pulled by the spirit of adventure all the way to Malibu. Once there, he rubbed shoulders with the rich and famous during a high profile real estate career. While Malibu was incredibly meaningful for Rob in all kinds of ways, he found himself dreaming about his childhood home again. After a few more twists and turns, such as a switch in career sparked by an unexpected life incident, Rob has ended up where he is today. Back in Anacortes, Robs tells us about how his childhood is reflected back to him in all the adventures he has with his family, and in his missions to preserve its magical woods. This unexpectedly became one of the most interesting and inspirational stories told on this show, so join in for the wild ride!
Key Points From This Episode:
Rob's family history and how he was born in Hawaii but grew up in Anacortes.
More about Rob's childhood exploring the rivers, woods, caves, and slopes of Anacortes.
As a teenager, Rob snowboarded and worked at the marina and at a woodworking shop.
Rob's adventure to Alaska after graduation, a gillnetting stint.
Gillnetting was a taxing job and Rob got thrown in the deep end but loved it.
Rob made money to buy a 1987 Volkswagen Golf with snow tires and a sound system.
How after buying his car, Rob spent a record snowfall winter snowboarding on Mount Baker.
Moving to Malibu and excelling in a private property management company.
Rob's transition into real estate after that, becoming Chris Cortazzo's assistant.
How Rob met his wife Nicole while helping his sister during her move.
While Rob loved Malibu, it didn't ever feel like home to him.
Rob's journey of moving back to Anacortes and getting an EMT license.
His experience of working in the ER at Island Hospital once back in Anacortes.
After finishing nursing school, Rob got back into real estate in Anacortes.
The story of how Rob sold his first house in Anacortes to Joe Huston.
How Rob is able to provide his children a similar childhood to his.
Rob's passion for volunteering for Friends of the Forest teaching woodland best practices.
Tweetables:
"I called my brother. It was his 30th birthday, and I said, 'Well, I didn't get you anything for your 30th but I did name my son after you.'" — @ Rob Skelton [0:03:36]
"I was able to buy my first car, a 1987 Volkswagen Golf with studded snow tires and good sound system. I took that winter off and snowboarded about 80 times." — @ Rob Skelton [0:08:53]
"Personally, I never felt like Malibu was home. It just did not resonate. It felt like we were in a Vegas Casino where years were going by. It was good and fun but maybe lacking substance." — @ Rob Skelton  [0:18:24]
"Theres a lot of teachable moments in almost anything that we're engaged with in Anacortes. Whether it be paddleboarding or hiking through the forest, or out on the boat, or up at Mount Baker. There's eagles soaring over your head." — @ Rob Skelton [25:36]
Links Mentioned in Today's Episode:
Anacortes Chat – http://www.anacorteschat.com/
Rob Skelton – http://anacortesestates.com/
Homes and Land Malibu – http://www.malibuhomesandland.com/
Chris Cortazzo – https://chriscortazzo.com/
Pepperdine university – https://www.pepperdine.edu/
Island Hospital – https://www.islandhospital.org/
The Lutheran Church – https://www.anacorteslutheran.org/
Friends of the Forest – https://www.friendsoftheacfl.org/
Asa Deane – https://www.friendsoftheacfl.org/staff-board
Melissa Courtney – https://www.friendsoftheacfl.org/staff-board
Richard Ridell Interview – http://www.anacorteschat.com/